Denbighshire: Education leadership 'excellent' watchdog says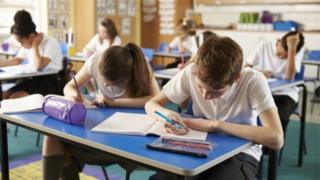 Educational leadership and management are "excellent" in Denbighshire, a report by the education watchdog has said.
Estyn found the quality of education was "good", especially at Key Stage 4.
A spokesman for the council said: "Education in Denbighshire has been a priority for a number of years and this is paying dividends."
However, performance across secondary schools was "variable", the watchdog said.
Councillor Huw Hilditch-Roberts, cabinet lead member for children, young people and the Welsh language, said: "The opportunities for our children and young people are at the heart of everything that we do.
"We want them to have the best education possible and have plenty of opportunity to thrive and develop as individuals."
The council is the first to be awarded an excellent rating for leadership under a new inspection framework.
Estyn found that "despite consistently strong performance overall, the performance of individual secondary schools has been variable over the last three years."
The council said it would be drawing up an action plan to address the recommendations made by Estyn.