Teen 'dragged down' after he was fatally stabbed in Deeside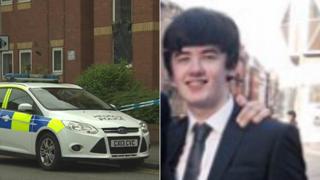 A 19-year-old man who was stabbed to death in an alleged drug dispute climbed two flights of stairs after he was injured, a court has heard.
In medical evidence given at Mold Crown Court, it was said Matthew Cassidy suffered injuries going up the stairs and was possibly "dragged down".
Leslie Baines, 48, denies murder, but his 20-year-old co-defendant David Woods admitted murder on Monday.
Neighbours at the Connahs Quay property said they "heard screaming".
Forensic scientist Margaret Boyle examined the blood trail left by Mr Cassidy, from Merseyside after he had been wounded and told the court he suffered most of the wounds to his legs on the flight of stairs to the second floor, having initially been wounded in the communal hall on ground level.
She said the amount of blood on the second landing suggested he had fallen or was possibly pulled or dragged down.
The fatal wound to the chest, which penetrated Mr Cassidy's heart, had taken place on the ground floor, the jury heard.
Prosecuting witness John Power, who lived in a flat on the ground floor of the building in Connahs Quay said he heard screaming from inside the block of flats on the night on the incident, which lasted about fifteen seconds, and saw two men outside the building at a similar time.
The trial continues.