Ex-Victorian asylum developer announced for Denbigh site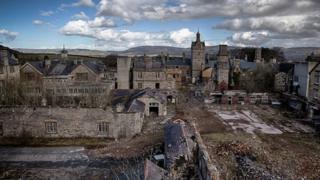 A former Victorian asylum is to be redeveloped by Denbighshire contractors Jones Bro in partnership with the North Wales Building Preservation Trust.
They plan to redevelop the site of North Wales Hospital in Denbigh for flats and 200 homes, while protecting the Grade II-listed building.
It has been the scene of numerous fires and vandalism since it closed in 1995.
Last year, Denbighshire council said part of the hospital would have to be demolished due to fire damage.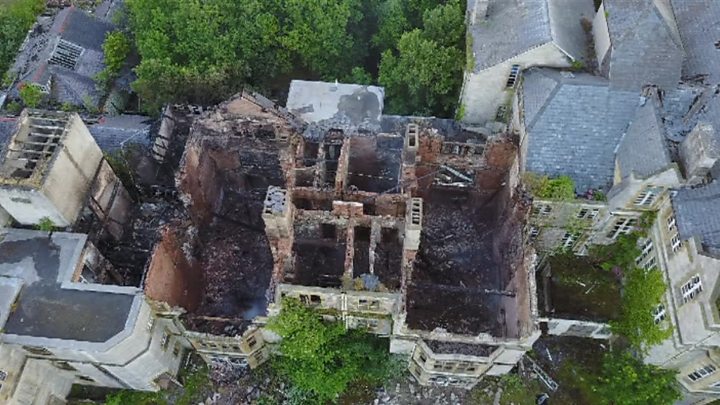 Denbighshire council is still in the process of buying the building through a compulsory purchase order (CPO), which is expected to conclude by the end of the year.
The current owner, Freemont (Denbigh) Ltd, had previously opposed the compulsory purchase and the dispute was subject to a public inquiry.
Following a long battle, Denbighshire council won the right to buy it, and plans were approved in 2016 to preserve the building and convert it into 34 apartments and build 200 homes on the site.
Denbighshire council leader Hugh Evans said: "This a significant milestone in the history of the former North Wales Hospital site.
"We have made a firm commitment from day one to protect this historic Grade II-listed building.
"The council has spent a significant amount of time, effort and money over the years, to protect the site from further dereliction, such is the importance of the site."
A spokesman for North Wales Building Preservation Trust and Jones Bros Civil Engineering UK said: "Our first step will be to conduct site investigations to improve our understanding of the site, and perform initial steps to make the site more secure."
"The findings will help us to finalise a development plan and planning application for the site."