Queensferry lorry crash sees major delays on the A494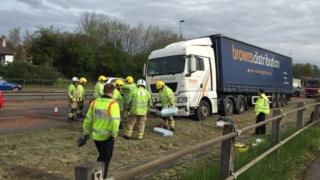 Firefighters have cleaned up a diesel spill after a lorry crashed on a dual carriageway near Queensferry, Flintshire.
Crews were called to the westbound side of the A494 at about 8:20 BST.
North Wales Fire Service confirmed it had attended the incident - near the exit for Buckley.
The crash led to long delays in the area - with the eastbound carriageway also affected.