Search for Shropshire kayaker continues off Anglesey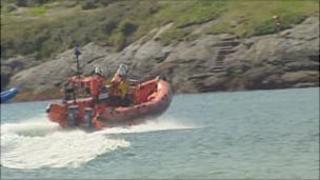 A major search has been continuing for a kayaker missing off the coast of Anglesey.
The woman, 53, from Shrewsbury, Shropshire, was last seen heading through rocks near Rhosneigr at about 1430 BST on Sunday.
Holyhead coastguard said she was "very experienced" and well equipped but became separated from four companions in bad weather.
Walkers and sailors were urged to keep a look-out.
A coastal search was continuing in the hope the kayaker, who had food and water, had found land, although the Treaddur lifeboat had called off its search for the day by 1630 BST.
The second day of search resumed at 0630 BST on Monday after it was called off in the early hours.
The alarm was not raised until 1930 BST on Sunday after her companions, who had washed up on a a particularly nasty piece of coast and had to lift their canoes up the cliff, managed to hitch hike back to base.
The woman was last seen heading through rocks at Ynys Feurig, or Starvation Island, close to Rhosneigr.
Barry Priddis Holyhead Coastguard, said: "We've also this morning had further searches going on involving four coastguard teams, another three lifeboats, helicopter.
"We've also put out a broadcasts to ships and yachting in the area requesting them to keep a sharp look-out."
Holyhead Coastguard said a 60-mile area had been searched on Sunday.
Ray Carson, watch manager at Holyhead coastguard told BBC Radio Wales that three teams of coastguards, three lifeboats and two rescue helicopters were involved in the first search.
On Monday coastguard teams from Holyhead, Rhoscolyn and Rhosneigr, two lifeboats from Trearrdur Bay and another lifeboat from Porth Dinllaen are involved.
Rescuers are concentrating their efforts along the island's coastline, Mr Carson told BBC Radio Wales.
"It's a coastal search at the moment. Her instinct, we feel, would be to strike for the coast and she was last seen very very close to the coast and making good progress."
He has also said that the four friends who had been with her had thought she had gone ahead to raise the alarm after they got into trouble as the conditions worsened.
One kayaker was towing the other three canoes.
"So they felt she had actually gone ahead to raise the alarm on their behalf," Mr Carson explained.
"Ironically they have got ashore quite safely and she's the one who's missing."
He said the bad weather on Sunday had made the searchers' task all the more difficult.
"This group when they went into the water weren't planning to be on a passage in darkness so the lady who's missing unfortunately did not have any detection aids which would help us find her in darkness.
"There was a possibility that she might have some reflective gear in her life jacket or buoyancy aid but other than that no flares or anything of that nature no radio
"So looking for a red canoe in a pitch black night, it's a bit like looking for the proverbial needle in a haystack," Mr Carson added.
The coastguard said the woman's family had been contacted.