Caernarfon study suggests childcare gaps 'aid poverty'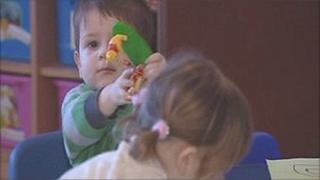 Affordable childcare and support for mothers wanting to return to work and training is essential to reducing poverty, a report says.
The study, by community training provider Sylfaen Cymunedol, focused on the Peblig ward in Caernarfon, Gwynedd.
It found mothers who were ambitious for their own and their children's futures, but were being held back.
Arfon MP Hywel Williams said lack of childcare was "one of the major obstacles" for parents wanting work.
In compiling the report, Childcare - when you need it, it isn't there?, Sylfaen said it worked closely with a group of local mothers and listened to what they had to say.
Researcher Val Williams said she found mothers who were actively trying to make changes to their lives.
"Many of them have qualifications and are keen to go back to work," she said.
"Unfortunately, however, existing childcare strategies don't touch the poorest communities, and information about the support available is not reaching those in greatest need."
One mother who took part in the study, Nicola Williams, said it had given them a voice.
It had also equipped them with the information they needed to realise their ambitions, she added.
"Many mothers are stuck in a rut and want to make changes for the better," she said.
"After taking part in this project one of the women has actually gone on to get a job, and several others are now following different job and training opportunities."
Plaid MP Mr Williams, who commissioned the report, commented: "What is clear is that good affordable childcare is basic to the alleviation of poverty.
"Listening to the views of parents from our poorest communities should be our main priority and acting on their opinions should be the focus of all anti-poverty strategies."
Mr Williams added that the report had highlighted issues and solutions that were equally as relevant to other areas in Wales.