Asda plan may mean Bangor City can move to new ground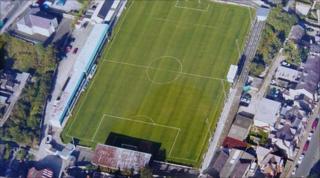 A new bid to develop Bangor City Football Club's ground could mean it can finally relocate to its new home.
The move has been on the cards for the past 10 years.
Asda says the latest bid to develop Farrar Road will create up to 240 jobs.
Deiniol Developments said it was "delighted" to finally be able to move on with both the Farrar Road redevelopment and the new stadium at Nantporth in the city.
Bangor City chairman Dilwyn Jones said: "We are excited that there is now the very real prospect of Bangor Football Club having a new home sometime during the 2011/12 season.
"With the club performing well on the field the new facilities at Nantporth will be a further boost," he added.
Economic downturn
Mr Jones said that despite the developers working "tirelessly" to attract retailers with the "economic downturn" the club had been "resigned" to staying at Farrar Road for the foreseeable future.
"We know the whole city will get behind the development to bring it to a reality as quickly as possible in particular with our community initiative gathering pace," he added.
Two companies, Morbaine and Watkin Jones, joined together to form Deiniol Developments Ltd for the Bangor project.
Mark Watkins Jones, from Deiniol Developments, said contracts had been exchanged with Asda to provide a new store on the Farrar Road site.
"We have already secured consent for a food store, and are confident that our plans will meet all the planning requirements," he said.
Mr Jones added that the Asda deal would provide a "much-needed boost" to the local economy.
'Proud investment'
"This is the catalyst that was needed to complete the stadium works at Nantporth, where the new pitch is ready and the access road has been established," he said.
A Gwynedd council spokesman said the planning application followed an application for a 12,000 sq m food store granted in 2006.
"The application will be subject to the normal statutory consultation process, as with the previously submitted applications," he said.
The latest plans are expected to go before Gwynedd council's planning committee in the new year.