Conwy council chief Byron Davies cleared of rape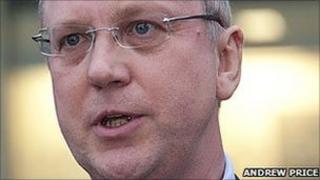 The chief executive of Conwy council has been found not guilty of raping a woman who claimed she was too drunk to consent to sex.
Byron Davies, 52, had denied raping the married 26-year-old at his flat.
His barrister said she went "willingly" to Mr Davies's flat and agreed to have sex after being asked on two occasions.
After leaving Mold Crown Court, Mr Davies was critical of police and prosecutors and said he was "very angry" the case had been brought.
The judge said he left the court with his good character "very much intact".
Mr Davies, of Yelverton, Devon, said after the case: "Obviously, I'm delighted and thrilled with the decision that has been taken. For anybody that knows me, that decision was never in question.
"I'm very angry about the case that has been brought against me."
He said he had a "grievance" against both the Crown Prosecution Service (CPS) and North Wales Police "for their behaviour throughout this case".
Mr Davies thanked his legal team and "some people in Conwy that have supported me throughout this period".
He added he wanted to most of all thank his family during what had been an "horrendous period".
In a joint statement with the CPS, North Wales Police said: "North Wales Police and the Crown Prosecution Service take all complaints of serious sexual assault extremely seriously and are committed to investigating them thoroughly and expeditiously.
"Both organisations worked hard throughout the investigation and prosecution stages to ensure that the full circumstances of this case could be properly examined in court.
"We respect the verdict reached by the jury."
In a statement following the verdict, Conwy council said Mr Davies remained suspended from his job until the outcome of a disciplinary investigation.
A spokeswoman said: "Following his arrest at the end of March, the council started a disciplinary investigation into matters relating to the arrest.
"Such disciplinary investigations against chief executives are undertaken by someone independent of the council.
"The council and Mr Davies's representative agreed that John Bowers QC should be appointed to carry out that investigation, which continues.
"The council will be seeking to bring matters to a conclusion as soon as possible."
The defence said the case collapsed entirely when the complainant got into his car.
It took the jury 75 minutes to clear Mr Davies.
Judge Niclas Parry told him: "Byron Davies, you came into court as a man of good character, you leave with that character intact. You are free to go."
Mr Davies had said in evidence he felt the "pushy" young woman had "targeted" him on 23 March when she came over to his table at a Conwy hotel.
The court had previously heard that the woman had no recollection of what happened and that she was too drunk to consent to sex.
'Sordid one-night stand'
Prosecutor John Philpotts had said she may have submitted in drink but she did not consent to sex and it should have been obvious to the defendant that she was not in a state to consent.
"Did she target him, or is he an opportunist taking advantage of a situation developing before him?" he asked.
It was conceded that on that night she had not behaved wisely or well in drink, taking alcohol and getting into his car.
But the prosecution case was clear, he said. She was not in a position to consent to sex that night.
David Williams, defending, said that the case against his client collapsed entirely when the complainant got in the defendant's car.
"What on earth is she doing going home with him at that time?" he asked.
Mr Williams said: "She has indulged, sadly, in a sordid one-night stand with a man who is much older than her.
"She virtually had her arm twisted by her husband to make a complaint."
He said that both had behaved stupidly that night in going together to that apartment.
Mr Davies, who was born and raised in Swansea, took up his post in Conwy in February 2009.
He had previously been chief executive of Caradon District Council in Cornwall since 2002.