Victorian-style Llandudno cafe fined over salmonella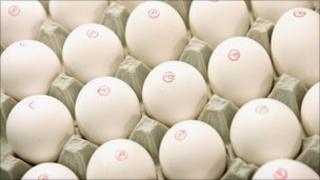 A seaside resort cafe, where staff wear Victorian dress, has been fined £8,015 after customers and staff suffered salmonella poisoning.
Ten people became ill after eating a chocolate mousse cake at Badgers' cafe, Llandudno, a court heard.
Salmonella was caused when raw egg, rather than pasteurised, was used in the cake, local magistrates heard.
Badgers cafe admitted selling the cake when unfit for human consumption and apologised to those affected.
Llandudno magistrates court heard seven of the 10 who had been unwell after eating the mousse in September 2009 were customers, the others were members of staff.
As well as the salmonella offence the company pleaded guilty to two breaches of food hygiene regulations a year later.
Rhian Gilligan, defending, said the cafe had attracted high-profile politicians and celebrities and was visited by many holidaymakers during the summer.
She said strict remedies had been put in place since the incident, there had been training for the 17 staff, and the chocolate mousse cake was no longer made.
In a statement after the case the Badgers company said it would like to apologise "unreservedly to those affected".
"Badgers has always sought to achieve the highest standards in food hygiene and customer service and continues to do so," the statement added.