Cadair Idris tea room plan given go-ahead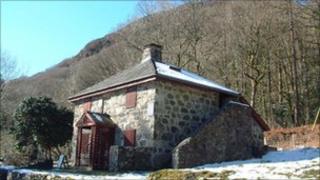 Plans to develop a tea room at the foot of Cadair Idris in Snowdonia have been given the go-ahead by park authorities.
The Countryside Council for Wales (CCW) plans at Ystradlyn Cottage will also feature an exhibition on the natural heritage and folklore of the area.
Refurbishment work will begin soon on the two-storey cottage with a view to opening the tea room in August.
Snowdonia National Park said there had been two objections to the scheme.
CCW said the planning application to the Snowdonia National Park Authority was made after consultation with local people and businesses.
'Folklore and wildlife'
"The tea room and exhibition will be welcome facility to the Cadair Idris' thousands of visitors every year," said Tim Jones, CCW regional director.
"The new exhibition will be designed to add to their enjoyment and appreciation of the area by revealing more to visitors about Cadair Idris' outstanding natural heritage - the folklore surrounding Idris and the mountains wildlife," he added.
Mr Jones said the project would "enrich the experience of tourists in this southern part of Snowdonia, bringing a welcome boost to the local economy".
The more people enjoy their visit to the area, the more likely they are to come back and to recommend it to their friends, he said.
"There is no better recommendation than word of mouth," he said.
"I hope the cottage can open for business as soon as possible and becomes a hub of activity for the local community and visitors to the area," he added.
A Snowdonia National Park spokesperson said park planners had decided to back the application after the size of the planned extension was reduced.