Daughter, partner guilty of father murder in Old Colwyn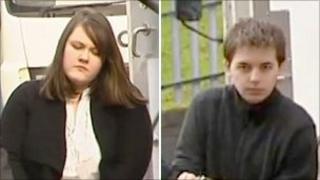 A daughter and her partner have been found guilty of the murder of her 61-year-old father at his home.
Gordon Harding, 20, and Ashleigh Robinson, 19, denied the murder of Antoni Robinson in Old Colwyn, Conwy, but were convicted on Friday.
He was stabbed 15 times by Harding as he slept in his bed, "supported and encouraged" by Mr Robinson's daughter, Mold Crown Court heard.
The jury was sent home on Friday before resuming deliberations on two others.
Sacha Roberts, 19, and a 16-year-old girl also denied murder.
At the time of the murder Harding was living at Mr Robinson's house with Ashleigh Robinson and their baby.
The prosecution claimed Ashleigh Robinson, the girl of 16, and Sasha Roberts had been secondary parties to the murder and that they were part of a plan on the night Mr Robinson died.
The defendants said the only plan was to get jewellery from the house, and there was no plan to kill or hurt him.
Ashleigh Robinson wept in the dock when the forewoman of the jury returned the verdicts.
Harding sat staring forward and sometimes looking over at his partner.
Family dispute
His claim that he acted in self defence was rejected by the jury.
The prosecution said Ashleigh Robinson was guilty of secondary murder on the basis that she was part of a plot to have her father killed.
The court heard claims that the killing was the culmination of a tragic family dispute about money, jewellery and property.
Mr Robinson suffered 18 wounds, 15 of them stab wounds, to his face, neck and upper body, including four stab wounds to his back.
The prosecution said he had been completely overpowered.
"This killing was the tragic result of family disputes over money, jewellery and property. The dispute reached boiling point on the night of the fatal attack, when the defendants met up at the bungalow," said prosecuting barrister Andrew Thomas.
After the attack Harding took of his blood splattered clothes and placed them in a pile in the bedroom and placed a "commando-style" army knife with a 7in blade and a kitchen knife with a 3.5in blade on top of them.
He told Ashleigh Robinson her father was dead, had a shower, and then sat in the bungalow waiting for the police to arrive.
Mr Thomas said the murder followed the breakdown of Mr Robinson's 25-year relationship with Joanne Barr, mother of Ashleigh Robinson, which led them into rows over money.
Mr Thomas said a plan was hatched by the defendants to sneak into Mr Robinson's bedroom when he was asleep and take the contents of his safe.
He also told the jury that Robinson sent a text message to her mother, Joanne Barr, telling her that her father was dead.
"Things happened, he is no more. Sorry mum. xxxx", the message said.