Mother speaks out after A55 stone attack on car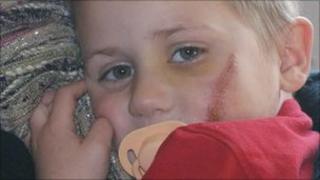 A mother says her husband and son could have been killed when someone threw a stone from a bridge on the A55 at their car.
Cian Thomas, five, was travelling home to Bethesda with his father Alun when their car was hit as they travelled near Caerhun, Bangor, on Thursday.
The stone cut the boy "to the bone" and, after surgery, a scar runs from Cian's left eye to just below his nose.
Sian Thomas said whoever was responsible must be caught.
The stone missed the driver's side of the car and smashed a hole in the windscreen on the the passenger side.
It then bounced off the dashboard into Cian's face.
The youngster spent time at Ysbyty Gwynedd in Bangor before being transferred to Ysbyty Glan Clwyd at Bodelwyddan.
After micro-surgery to treat his injuries he was sent home on Friday evening, although doctors want to see him again in a week and he might need more treatment.
Mrs Thomas said her husband saw a figure on the bridge above the road a "split second" before the stone hit the windscreen.
She said she felt "very angry" with however was responsible.
"Cian has to live with this for the rest of his life," she said.
"If he'd fallen you could have said it was an accident but he wasn't doing anything, he was just spending time with his dad, now he's scarred for life for no good reason," she said.
The mother-of-three said she understood other cars had also been hit by objects thrown from the same bridge.
"What's the fun in throwing rocks or stones over flyovers?" she said.
"Cian could have been killed or blinded, it's unthinkable really what could have happened," she added.
A North Wales Police spokesman said: "We are treating this very seriously and are appealing for information."