Blaenau Ffestiniog pool in use it or lose it appeal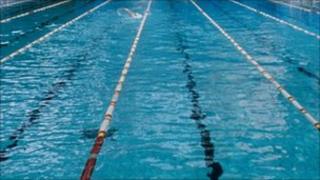 More people should use Blaenau Ffestiniog's council-run swimming pool if its future is to be safeguarded, says a Gwynedd councillor.
The pool currently has longer opening hours because the Porthmadog pool is closed for repairs.
Paul Thomas is urging people to use it or lose it as he would like the current opening hours to remain.
A Gwynedd council spokesman said a decision on future opening times would be taken based on usage.
Mr Thomas said the usual closure of the pool on Sundays was a cause of great concern.
"I have been working with Gwynedd's leisure department to ensure this leisure facility is available and open to the local community all week," he said.
"My hope is that people appreciate the facilities we have here locally in Blaenau, and make use of these services."
The Plaid Cymru councillor said it was a "trying time" financially for local authorities.
"Whilst every effort will be made to sustain front-line public services, communities need to be aware that each and every public service within the local authority will be scrutinised," he said.
He said people needed to support local services, including shops, community events, pubs and restaurants, and all other public and private companies working in the town.
"Once we join forces and support one another, the town once again flourishes making Blaenau a vibrant area with further potential investment," he added.
A Gwynedd council spokesman said the closure of Glaslyn Leisure Centre in Porthmadog for swimming pool repairs and maintenance, had led to staff being redeployed.
This has resulted in Blaenau swimming pool reopening on Sundays between 1000 and 1300 GMT.
A spokesman said: "The Blaenau Ffestiniog swimming pool will be open on Sundays until the swimming pool at Glaslyn Leisure Centre, Porthmadog is reopened.
"A decision on the future opening of the Blaenau pool on Sundays will be taken at that time, subject to the demand and usage made of the pool."