Another car 'hit by stone' dropped from bridge on A55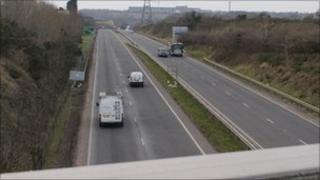 Another driver says his car has been hit by a stone dropped from a bridge over the A55 at Caerhun near Bangor.
The incident at around 2130 GMT on Tuesday comes days after a five-year-old boy was seriously injured when a stone smashed his father's windscreen at the same spot.
Cian Thomas will be scarred for life after being hit in the face.
On Tuesday, driver James Innes said an object hit the road in front of his car blowing out a tyre.
Mr Innes said he is lucky to be alive after his car veered violently to the left.
"I saw a flash of white and something landed right in front of the car and blew my tyre and I veered off to the left," he said.
As he came to a stop at the side of the road, Mr Innes said he saw another car ahead of him with its hazard lights on.
"The driver said the same thing had happened to him and he had two blown tyres," he added.
Mr Innes said he was not aware of similar incidents at the same spot until police told him.
"It's disgraceful. What has happened is attempted murder, it could have killed me or the other guy," he said.
Cian was seriously injured at the same spot when a stone hit his father's car on Thursday last week.
His mother has spoken of her shock at the incident and the fact her young son will be scarred for life.
A spokesman for North Wales Police said: "We are aware of an incident at this location last night, and we are investigating."