A55 Caerhun stone-throwers hunted after fifth incident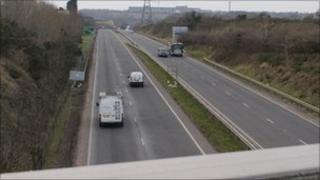 Police say there have now been five incidents where stones have been thrown at vehicles from a bridge on the A55 in Gwynedd over the last seven days.
In the worst case, a five-year-old boy received serious facial injuries when a rock smashed his father's windscreen on the A55 at Caerhun, near Bangor.
In another, a motorist says an object hit the road in front of his car, blowing out a tyre.
North Wales Police say they are determined to catch the culprits.
Cian Thomas could be scarred for life after being hit in the face in the incident which happened on Thursday, 3 March, 1856 GMT.
It came a day after the first incident was reported, in which no one was hurt.
The third incident on Friday 4 March at 1326 GMT happened when an object was thrown from the bridge, damaging a car.
'Irresponsible behaviour'
There was a further report on Tuesday 8 March at 2100 GMT when someone was seen throwing stones from the bridge but there was no damage to any vehicles.
Fifty minutes later there was damage caused to two cars, including one being driven by James Innes.
Mr Innes said he is lucky to be alive after his car veered violently to the left when an object hit the road in front of his car, blowing out a tyre.
Chief Insp Nigel Harrison said: "These incidents are being treated extremely seriously. Throwing objects from a bridge is highly dangerous.
"This kind of irresponsible behaviour is thankfully very rare and CID are investigating.
"I would like to reassure motorists and members of the public that everything is being done to find those responsible."
Cian was seriously injured at the same spot when a stone hit his father's car on Thursday last week.
His mother, Sian Thomas, has spoken of her shock at the incident and the fact her young son will be scarred for life.
A spokesman for North Wales Police said: "We are aware of an incident at this location last night, and we are investigating."