Caernarfon school land sale causes local concern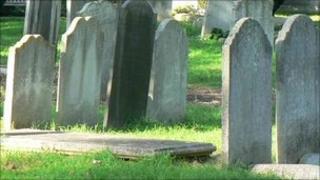 Concerns have been raised about the future of land in Caernarfon when a new school is built.
Some local people want to see the old Ysgol yr Hendre site kept free from redevelopment and eventually used as an overflow cemetery.
It is estimated burial space will run out at the town's Llanbeblig graveyard in under 20 years.
Gwynedd council said the sale of the Hendre site was on the cards as money was needed for the school development.
Town councillor Anita Kirk said her understanding was that the site for the new school - Cae Phillips - had originally been earmarked as a new cemetery.
Ms Kirk said as the new school was now being built on that site then the current 3.6 acre (1.4sq km) Hendre school site should become the next cemetery.
This would make sense, especially since, it is was over the road from the current council-run facility at Llanbeblig, she said.
"I've heard that they are looking at sites on the outskirts of the town on Bethel road, but that takes the cemetery out of the community," said Ms Kirk.
"A lot of people who go to tend graves don't drive, and using the Hendre school site would have been ideal as there is already a crossing in place - and gates either side of the road.
"What has to be remembered here is that this cemetery belongs to the people of the town, and everyone should be aware of what is happening here," she added.
Gwynedd council said the decision to sell the Hendre school site had been taken last year.
"Councillors approved a recommendation for the present site of Ysgol yr Hendre to be disposed of on the open market when the new school site opens," said a spokesman.
"The capital receipt is part of the financial package to develop the new school."
The site will go on the market in the coming weeks, with the sale to be completed when the new school opens next spring, he added.