Gwynedd pupils dig deep to study the health of peat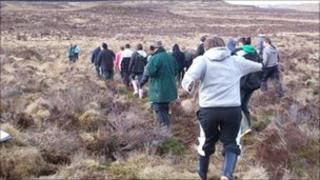 Pupils from two Gwynedd schools have taken to peat moors as part of scientific studies into climate change.
The field visits, with Snowdonia National Park officers, will help research into the health of Britain's moorland.
The pupils from Ysgol y Gader, Dolgellau and Ysgol y Moelwyn, Blaenau Ffestiniog were given long rods and quadrants.
The experiments are part of Science Week.
The pupils took to moorland on the Migneint and Penaran to discover what peat can tell us about history and climate change.
Healthy peat moorlands of Britain could retain more carbon than all the forests in the UK and France combined.
But due to the drying out of the peat beds for sheep grazing, tree-planting and grouse shooting over the centuries this carbon has been released, either in the water or through the air by mixing with oxygen to create carbon dioxide.
"The fact that there's more carbon in Britain's peat moorlands than in all of the forests of Britain and France is very interesting," said national park education officer Angharad Harris.
Pupils are looking at what effect an ongoing scheme to close up the ditches, started two years ago, is having on the local environment and find out more about the impact of human activities on the moorland.
Their findings will then be collated and analysed using handheld sensors and GPS technology.
Ms Harris said the study "encourages students to think scientifically outside the school classroom and it also broadens their understanding of climate change".
Through various experiments, the pupils discovered that the peat moorlands had a high water content, good acidity levels and went down to a depth of up to 6m
"That means whatever the bottom of the rod hit, last time it saw life was 2000 BC," said Ms Harris
"The hope is we'll return to each site each Science Week and collect more data, and see if the health of the peat keeps improving."
Ms Harris impressed on the pupils the importance of peat in sucking up the carbon in the atmosphere, and also storing water, thus slowing flow into the local rivers, which have moorland sources.
It is hoped this will prevent greater flooding in winter and maintain water levels during the summer as the peat continues to slowly release water during the hotter months.
The findings, part of the Moorlands as Indicators of Climate Change Initiative across national parks in Britain, will be discussed with pupils in a video conference in June.