North Wales Police say girl, 14, put in cell 'to rest'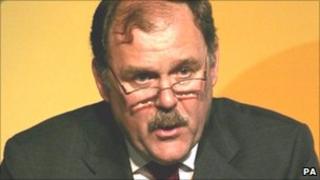 An MP has asked a council why a vulnerable 14-year-old girl had to be kept in a police cell in the middle of the night.
Plaid Cymru's Elfyn Llwyd said it was wrong she was been kept in the cell when Gwynedd council should have found her a "place of safety".
North Wales Police chief constable Mark Polin explained she was offered the cell in Dolgellau as a place to rest.
Gwynedd council said every effort had been made to find foster parents.
The case came to light when the Inspectorate of Constabulary was critical of the police.
She had been removed from home in what was called a "potentially dangerous environment".
It said the girl had not been collected by social services until the next morning and custody units should not be used as places of safety for youngsters - although they accepted it was not a regular occurrence.
'Place of safety'
"The story I heard first was that this young girl had been kept under lock, because they needed to find somewhere safe for her," said Mr Llwyd.
"I didn't see that this was appropriate so I wrote to the chief constable and I now have the full facts."
Mr Llwyd said the chief constable explained that the girl had said she was tired and she had been offered a bed in one of the cells to lie down.
The door had remained "wide open," he added.
The MP for Dwyfor Meirionnydd said he could understand why the police did what they did "under the circumstances".
He said perhaps the "weakness" was the council's social services department.
"The reason I say this is that social services are suppose to find a safe place, 'a place of safety' for a child in a situation like this."
Mr Llwyd said he had written to the council to ask for details of the case.
In a letter to the MP the chief constable said that out-of-hours social services did not have suitable accommodation for the girl, and relatives and friends were contacted without success.
Officers decided to take her to Dolgellau police station, where there were no prisoners, and the girl was given a bed in the juvenile detention room at 4.30am, with the door left open.
A spokesman for Gwynedd council said the social services department had a good relationship with North Wales Police.
He said that when a request had come from the police to find a safe place for this girl everything had been done to find someone.
Usually foster parents would have been found to take a child at short notice, he added.