Wylfa and other UK nuclear stations in 'safe hands'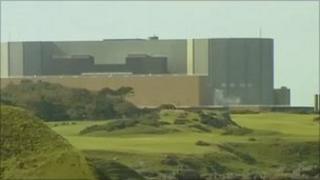 Counter-terrorism measures at Wylfa nuclear power station in Anglesey are to come under public scrutiny later.
Security chiefs will take questions from local people with nuclear safety in the global spotlight after the Japan earthquake.
The Civil Nuclear Police Authority insists UK nuclear plants are in "safe hands".
But anti-nuclear group Pawb says it has concerns about Wylfa's vulnerability to cyber-attacks and air assaults.
The security meeting is an annual public event, which takes place at a different nuclear site across the UK each year.
But this one coincides with concerns about the development of the new Wylfa B site, in the wake of the nuclear emergency in Japan.
Wylfa is defended by the Civil Nuclear Constabulary (CNC), an armed force dedicated to counter-terrorism.
Sir Chris Fox, chairman of the Civil Nuclear Police Authority which oversees the CNC, said security at nuclear facilities in the UK was in "safe hands".
He said CNC officers carry firearms and were trained to a national firearms standard.
"They show a high level of commitment and professionalism," he said.
"We take very seriously any concerns that members of the public may have about the work we do on Anglesey.
"Thankfully armed policing remains the exception rather than the norm, but people can sometimes be concerned when they see, or meet armed officers.
'Cyber attacks'
"We are here to provide assurance to the community."
Earlier this week, the company hoping to develop a replacement plant at Wylfa from 2020 said it was reviewing plans.
Horizon Nuclear Power said it needed to take stock after the events at the Fukushima Daiichi nuclear power plant following the earthquake and tsunami.
Dr Carl Iwan Clowes, a consultant in public health and campaigner for Pawb (People Against Wylfa B), told BBC Wales that events in Japan proved the devastating impact that natural disasters, human error or terrorism could wreak on nuclear facilities.
He is due to attend the meeting and said: "I will be asking about the cost of policing the site, a cost which is carried by the state, and whether that is viable, but I also want to know how effective the constabulary would be in relation to terrorism from the air or cyber attacks which are now a realistic threat.
"The third issue in the light of what has happened in Fukushima is evacuation from Anglesey - I think we need clearer guidance of what will happen if there is a leak."
The Wylfa site is protected by the CNC, in partnership with an on-site security team and North Wales Police.