Cocaine smuggling case: flying instructor denies role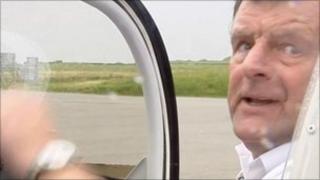 A flying instructor from Anglesey has told a court that the idea he was involved in a £3.5m cocaine smuggling conspiracy is 'absolutely stupid'.
David Lloyd, 65, said he thought he was on a training exercise with a student when he flew from France to Anglesey on 28 July 2009.
Fourteen kilos of cocaine were found in the plane by a sniffer dog.
The trial of Mr Lloyd, and three others, at Liverpool Crown Court continues.
Mona Flying Club's chief instructor told the jury that when he flew with co-defendant Paul Roche, 55, from Prestwich, Greater Manchester, he thought the two-day trip was the kind of training exercise he had done many times before.
He said Mr Roche held a British private pilot's licence but wanted to gain more experience and qualifications.
A third man, Matt Lockwood, also of Greater Manchester, who was on the plane has already pleaded guilty to conspiracy to smuggle cocaine.
Mr Lloyd said he had never met Mr Lockwood before the trip.
The pilot said he could see two men in high visibility jackets on the ground as they approached Anglesey on the way back.
When asked by Mr Roche and Mr Lockwood who they were he said he had replied "Don't worry. It's the Special Branch, they're most probably on a check."
After they landed the men were asked for their bags to be searched.
There was a commotion and Mr Lockwood had climbed from the rear of the plane and was running off, said Mr Lloyd.
The pilot then said he spoke to Mr Roche who told him: "It's got to be something like money or drugs."
"I said 'you're kidding'.
Mr Lloyd added: "To me, it was just a trip I had done hundreds of time before. I went there to instruct."
The ex-RAF pilot denies conspiring to smuggle cocaine.
Also pleading not guilty are David Watson, 54, the owner of the plane from Prestwich, Greater Manchester, Paul Roche and Richard McArthur, from Carrickfergus, Northern Ireland.
Mr McArthur does admit smuggling drugs, but only on the basis that he believed them to be cannabis.
Matt Lockwood, 29, and another man Michael Cahillane, also from Manchester, have pleaded guilty to the charge.
The trial continues.