Ogwen Valley visitor centre plans for public meetings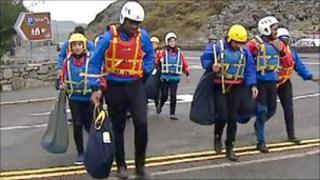 People are being asked for their views on plans for a new visitor centre for the Ogwen Valley in Snowdonia.
Architects have drawn up a design after consulting outdoor activity providers.
The National Park Authority says the current warden building is cramped and unappealing.
The park's director of land management Emyr Williams said: "The old facilities here are not fit for purpose and don't meet the expectations of today's visitor."
"Through this initiative, our intention is to transform the centre and create an attractive gateway to Snowdonia which will, in turn, improve people's understanding and enjoyment of Cwm Idwal.
"This Cwm is the star attraction for visitors and, by improving the facilities here, we hope to attract a broader audience and more leisure opportunities in the area."
The work will be overseen and paid for by the Cwm Idwal Partnership, made up of the Snowdonia National Park Authority, the Countryside Council for Wales, and the National Trust.
Finance has come from the assembly government's Communities and Nature (CAN) strategic project, backed by European funding.
Architect company Dewis has produced a design based on consultation with outdoor education leaders and activity providers.
The centre would include office space for site managers and enterprises, an interpretation area, refreshments, toilets, parking and 24-hour access to information.
A 350-metre path to complete a lower level circular walk around Llyn Idwal is also included.
Consultation sessions will be held at local venues from Monday 4 to Thursday 7 April.
Tim Jones of the Countryside Council for Wales said: "There is a fantastic story to tell visitors at Ogwen, the gateway to Cwm Idwal, Wales' first national nature reserve.
'Not fit for purpose'
"It will enhance their enjoyment of this spectacular landscape, and its internationally renowned geology and wildlife.
"However, before progressing to the next step of seeking planning permission for the building, it is crucial that we find out what people think of the design and hear their ideas about how we use the new facility."
Rhys Evans, from the National Trust, said the organisation also welcomed the national park's proposals.
"The numbers of people visiting to enjoy Cwm Idwal are increasing each year and the building is now not fit for purpose new facilities will attract more people to the area thus contributing to the local economy."