Ffion Wyn Roberts: Jury told of brother's 'attacks'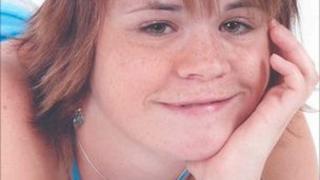 The brother of Ffion Wyn Roberts had a history of rage and violence against her, a court has heard.
The body of Ms Roberts, 22, was found in a drainage ditch in Porthmadog, Gwynedd, last April.
A jury at Caernarfon Crown Court was told that her family home was secretly bugged by police after her death.
Another man, 54-year-old wool packer Iestyn Davies, is on trial accused of her murder, which he denies. The trial continues.
Giving evidence, Det Insp Neil McAdam told the court that Ms Roberts' brother, Elgan, 21, was the first person to be arrested on suspicion of her murder.
He was later released without charge and has always denied he had any involvement in the care worker's killing.
Black eyes
Although Mr Davies is in the dock, the defence barrister Patrick Harrington QC was focusing his questions on her brother when cross-examining police officers giving evidence to the trial on Wednesday.
The court was told there were numerous reports of Ms Roberts having black eyes and injuries believed to have been caused by her brother.
Friends on one occasion were said to have helped her sneak out of a pub by a back door because her brother was waiting for her, the trial heard.
And on another occasion he had threatened her friends with a knife when they supported her against him in an argument, the court heard.
But officers giving evidence also said that Mr Roberts actually pleaded with the police when they arrested him to catch the person who killed his sister for the sake of his mother and father.
They added that Mr Roberts had told police he loved his sister and even though they used to argue, they always made up afterwards.
DNA analysis
Det Insp McAdam also told the court that special permission was obtained for secret listening devices to be installed in the Roberts family home to obtain any intelligence at the start of the inquiry.
There had been a lot of drunken conversation but nothing that could be construed as any admission to a crime, he added.
He said the murder inquiry had taken a completely different turn after vital DNA analysis became available.
This evidence led to the arrest of Mr Davies, from Porthmadog, at the end of June.
But another officer told the court an analyst had looked at the records for Ms Roberts' mobile phone and said Elgan Roberts made 19 calls to his sister in the space of 25 minutes on the night she died.
The calls took place between 0125 and 0150 GMT.
Mr Roberts told police he had been worried about his sister and wanted her to come home.