Pwllheli harbour silting fears for boat owner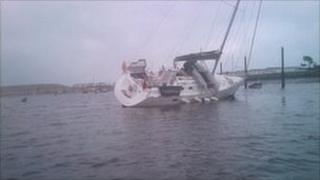 A boat owner says he fears that silting at Pwllheli harbour in Gwynedd has caused an "accident waiting to happen".
Stuart Davies, a former deputy leader of Denbighshire council, said the access was too narrow and mooring too difficult.
The harbour owner, Gwynedd council, said dredging work would start soon and a detailed hydrographic survey would be carried out.
The council said it is also looking at further action to tackle the issue.
Mr Davies, of Llangollen, Denbighshire, has kept his boat at a pile mooring in the centre of the harbour for the past 11 years.
But he said increasing silting over the past two years had made it "more and more difficult to enter Pwllheli harbour".
His boat had also been hit "several times" by boats struggling "because of the the silting causing really strong side currents".
'Side currents'
Water depth at the mooring had also been affected, he said, which could lead to boats ending up on their sides after their keels touched the bottom even before low tide.
The buoyancy of the vessels could then be compromised as water could lap overboard before it became upright, and also modern boats were "not structurally built" to lie on their sides, he added.
In an e-mail to the council Mr Davies wrote: "You have a serious health and safety issue developing come Easter, and finally, myself and three other boats are leaving Pwllheli".
He said that would an immediate loss of £20,000 a year in berthing fees, and the loss to the local economy of expenditure from four families.
A Gwynedd council spokesman said dredging work had been undertaken at Pwllheli last year to keep the depth and approach channel "at an acceptable level".
Due to a narrowing of the harbour entrance during the winter months, further dredging would now be carried out in the "next fortnight or so".
A detailed hydrographic survey of the harbour will also be carried out, he added.
"We will also be looking at further actions during 2011 in order to address the issue in the approach channel," he added.