Ffion Wyn Roberts: accused 'nothing to do with death'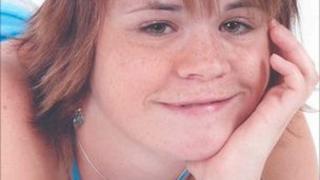 The man accused of murdering care worker Ffion Wyn Roberts has told a jury that he had nothing to do with her death.
The body of Ms Roberts, 22, was found in a drainage ditch in Porthmadog, Gwynedd, last April.
Iestyn Davies, 54, also from Porthmadog, denies murder.
Wool packer Mr Davies told the jury at Caernarfon Crown Court that he last saw her alive in a pub the night before she died. The case continues.
Mr Davies, giving evidence in his defence, was asked by his QC Patrick Harrington: "Did you have anything to do with the death of Ffion Roberts?" He replied: "No, I didn't."
Mr Harrington asked him: "Did you see her that Saturday morning she was murdered?" He replied: "No, I didn't."
Mr Davies said he last saw Ms Roberts the previous night at The Station pub in Porthmadog when he gave her a cuddle. "I'm telling the truth," he said.
He said he had attended her funeral and visited her parents' home to offer his condolences in the days after her body had been found in a drainage ditch.
The prosecution has alleged she was assaulted, strangled and drowned.
Cross-examined by prosecuting QC Elwen Evans, Mr Davies said he had nothing to hide when he answered "no comment" to police questions after his arrest.
Mr Davies agreed that his tracksuit bottoms had been recovered from a sluice gate at Porthmadog. "I didn't put them there," he said.
He said that he had washed them and hung them up at the wool factory where he worked but there was a gap in an outside panel of the building and they had vanished.
The prosecutor said Mr Davies's best friend had recalled: "Iestyn wasn't the type to touch or hug people". "Was he right or wrong?" Mr Evans asked. Mr Davies replied: "He was wrong."
"You are trying to concoct a story to explain the evidence?" asked Mr Evans. "No, I'm not," he responded.
A barman also claimed Mr Davies was not in The Station pub on the Friday night, which the defendant disputed.
He was also asked whether he would have had the strength to assault and strangle Ms Roberts.
"You would have no trouble in physically overpowering a struggling Ffion, would you?" asked the prosecutor. "No, I don't think so?" he replied.
Giving evidence earlier, he had told the jury that he knew the town well and that he also knew her family, and had been to school with her father.
He said he was a regular at The Station, where Ms Roberts's father worked behind the bar two days a week.
Walked home
Mr Davies said he usually got up early in the morning. It was normal for him to be out walking his dog at 4am.
Ms Roberts was last seen in the town centre in the early hours as she walked home from a night out with friends.
The jury heard that on the weekend that Ms Roberts died, the defendant was trying to move out of his flat by Porthmadog Harbour and put his belongings into store.
On Wednesday, the court heard that Mr Davies had been involved in an attack in 1984 on a woman from Stockport in Greater Manchester.
Mr Davies told the trial that it was the only time he had been in trouble with the police, that he had pleaded guilty to assault and had been fined £50.
The trial continues.