Anglesey councillors reassured on 'vital role'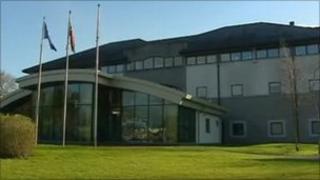 Commissioners who have taken over at Anglesey council have reassured councillors they still have an important role to play.
Local Government Minister Carl Sargeant brought in commissioners after years of political infighting on the island.
They have been meeting with elected members to explain their role and answer any concerns.
Barrie Durkin, a councillor who had called for the minister's help, said the meeting was "encouraging".
"I was encouraged by what they had to say providing we can draw a line under everything," he said.
Alex Aldridge and Byron Davies - two of the five commissioners appointed to take over the functions of the council's executive - stressed that they had not been sent in to examine matters that had gone before.
They said "formal and proper avenues" for such concerns could be raised elsewhere.
Mr Aldridge said all 40 councillors still had a "vital role" to play in their individual wards and the democratic process.
"During a positive meeting, we gave absolute assurances that we respect the role and rights of those county councillors who have been duly elected by the people of Anglesey," he said.
"We hope now to see all members play an integral part in helping to move the county council forward."
Councillors have been stripped of all executive powers and they have been assumed by the commissioners.
However, these will be scrutinised by the council and its committees.
Mr Aldridge said: "We look forward to regular and continued dialogue with elected members and to the day when there will be a formal handover of powers back to those who have earned the trust and support of the people of Anglesey through the ballot box.
"At the moment, however, unless circumstances change following ministerial deliberation we will be overseeing the provision of services here on Anglesey until at least May 2012."