Bangor old post office club and health centre plan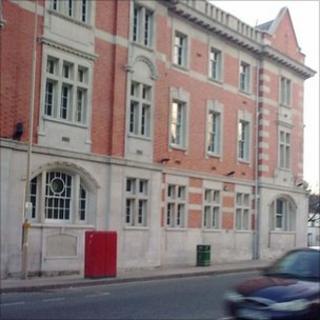 The former post office in Bangor city centre may be turned into a nightclub, medical practice and food court.
But the outside of the grade II listed Edwardian building would not be changed, according to the plans.
The club would open every day, with a suggested membership and "desirable" dress code, and clinics, opticians and GPs would unite in the health practice.
Bangor's Civic Society said it has concerns about the expansion of the city's night-time economy.
The post office moved from the building in 2008.
Conwy-based developers have submitted a detailed report on noise controls at the location, and point out there are no residential houses nearby.
Nighttime economy
The food court would feature Italian, French, Spanish, Thai, vegetarian and Japanese cuisine.
A spokesman for Bangor Civic Society said the building dates back to 1909 and is an important part of the city.
He said the society welcome the recent preservation listing of the building by Cadw, the body which looks after Welsh historical monuments, because it may well have saved it from demolition or "ill-advised" exterior alterations.
"We are also pleased that the building will be occupied, as vacancy is often the main cause of dereliction and decay," he said.
However, the society does have some concerns about the "expansion of the nightime economy".
"(This is because of) the increased pressures this will put on the emergency services, as well as the proximity of Deiniol Road, to both this development and the students union venue, which we fear may have a negative impact on traffic and parking," the spokesman added.
Gwynedd councillors are due to discuss the plans next week.