Golfer Terry Midgeley's two holes-in-one in same round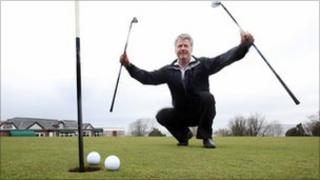 A golfer has spoken of his elation after he hit two holes-in-one, in one match.
Terry Midgeley, a member of Penmaenmawr golf club in Conwy for 32 years, said he was "buzzing" after his feat on the 8th and 11th holes on Saturday.
Mr Midgeley is a member of the club's hole-in-one syndicate, which paid for a round of drinks at the clubhouse.
He will also be presented with a special prize from the club to mark his achievement.
Penmaenmawr golf club states on its website it is "scenic, challenging, but forgiving" and Mr Midgeley's moments of glory game during a captain versus vice-captain game on Saturday.
The five handicap player said he hit the shot for the 100-yard par three 8th hole with a seven iron and "it went like an arrow".
"Unfortunately you can't see the hole though as it's uphill, and as we were the first group out there was no-one there to see the ball go in," he said.
On the 11th, a 149 yard par three, the trick is to play onto the bank and let the ball run in, he added.
When his co-player got to the hole and told him he had hit another hole-in-one he said it was "absolutely unbelievable".
"I felt elated, I was buzzing," he added.
The father-of-four, and grandfather of five, said he is now looking forward to playing more golf over the summer months.
"I haven't been out since Saturday, but I'm playing again on Friday, and Saturday this week," he said.
One calculation puts the odds of making two holes-in-one in a round as one in 64m.