Anglesey waste plant 'likely' to win agency approval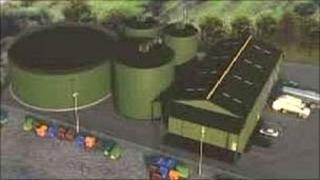 Plans for a controversial waste treatment plant on Anglesey are a step closer after the Environment Agency said it was "likely" to grant a permit.
The plant at Bodfordd has planning permission, but needs an environmental permit before it can be built.
A draft report by the agency said it did not anticipate it would cause "any significant risk to the environment".
The agency will hold further public consultation until 1 June before it makes its final decision.
Local people have said they are concerned about the proximity of the plant to their homes.
The facility will use a process where micro-organisms break down biodegradable material.
The agency said it had carried out a "rigorous scrutiny" over the last few months, including a full consultation with health officials.
David Edwell, the Environment Agency Wales' area manager for north Wales, said: "Our draft decision means we can see no reason, at this stage, why Anglesey EcoParc Mon should not be given an environmental permit.
"We have carried out a rigorous scrutiny over the last few months including a full consultation with Betsi Cadwaladr University Health Board on any possible health issues.
"Detailed information from the company shows that plans are in place to operate this plant to the highest environmental standards.
"At this stage we do not anticipate that it will cause any significant risk to the environment."
Objectors have said the plant was "in the wrong place" and "too close to homes".
But Anglesey EcoParc Mon has said the process will be completely safe, and that no smells will escape from the building.