Vatican visit inspires Alan Whitfield empty space show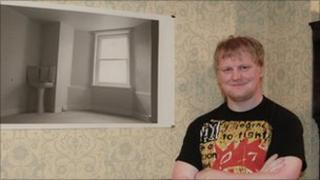 The empty square following a Mass attended by thousands of people at the Vatican in Rome has inspired a Conwy photographer to look at empty spaces.
Alan Whitfield from Mochdre said he wanted to get a sense of the voices and people that would have filled different spaces from what was left behind.
He is studying at Glyndwr University, Wrexham, and his images include a former Woolworth store and disused pub.
They can be seen at Collinge Antiques, Llandudno Junction, from 15 May.
The photographer is putting his solo show together as part of his degree level creative lens media course.
Mr Whitfield said he was interested to take the pictures "at a time of financial downturn" after he noticed an increase in sites boarded up with to let signs.
He said it then linked back to an experience he had whilst on a visit to Rome in Italy, when he had visited St Peter's Square just after a Mass was held there.
It was empty apart from thousands of chairs, and it made him think of the "voices" which had been left behind.
"I wanted to get a sense of the voices and people that would have filled these spaces from what is left behind," he said.
'Creepy and sombre'
"Some of them have turned out quite creepy and sombre," he added.
The pictures will be displayed in the slightly unusual location of Collinge Antiques hall in Llandudno Junction, Conwy.
"The thinking behind this is to show my empty space work next to a collection of antiques that would have filled some of those places when they were in use," he said.
"Hopefully this will get different people into the antiques hall to support a local business," he added.
Tom Burgess from Collinge Antiques said the exhibition was "something of a departure for us".
"Alan's empty spaces will stand in stark contrast to our busy showroom displays," he said.
"The photographs of empty domestic spaces recall the many properties we have cleared over the years, and hint at the previous lives of the objects in the shop," he added.