Conwy Castle English 'siege' re-enactment idea rejected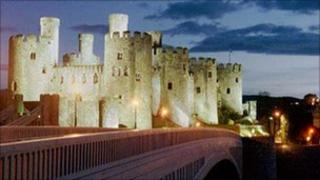 A row has broken out after an idea to re-enact the siege of Conwy Castle by English forces was rejected.
Cadw said no to the event despite an earlier re-enactment of Owain Glyndŵr's capture of the castle in 1404.
One councillor said there were fears people might be offended but insisted this was not the case and that the event would boost tourism.
A member of Conwy's Chamber of Trade disagreed, saying it would be too "negative".
Historic monuments body Cadw said it rejected the idea on the basis it was "out of line" with their historical interpretation of the castle.
"We are currently striving to tell the Welsh story of Conwy, through our Princes of Gwynedd project, therefore at this time a re-enactment of the castle being 'taken' by the English forces could appear out of line with our interpretation of the castle and town walls," a spokesperson said.
Sara Allardice, from Conwy's Chamber of Trade, said she agreed with the Cadw decision because to re-enact the true events would have been "gruesome" and a "negative" event.
She said the initial taking of the castle by the Welsh had been more of a skirmish, which was easier to "ham act" but the re-taking by the English had been "a siege situation".
That ended with "no argy bargy" but eight men were "hung, drawn and quartered" inside the town walls, she added.
Instead she said she was happy that another historical event to support the forces charity Help for Heroes had been organised.
"It's will make it a positive day about heroes, which will have people dressed up as famous historical figures, and the children can dress up as their heroes," she added.
Conwy County councillor Joan Vaughan said the re-enactment of the English taking the castle back should have gone ahead as it was only "play acting".
She said there was a "lovely atmosphere" in the town when the re-enactment society put on the first show.
When Cadw made the decision not to support the re-enactment plan Ms Vaughan said she "could not believe it".
"Everybody I've spoken to said they would not have taken offence at this, so who are Cadw to tell us how we feel?
"Conwy is about tourism, attracting people here, and getting them to come back."