Llanrwst group aims to save closure-threatened toilet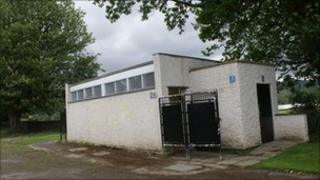 A community group is getting together to save public toilets in a park, with plans to develop a new play area, ball court and cafe.
The loos in Gwydir Park, Llanrwst, are earmarked for closure as part of cost cutting by Conwy council.
Llanrwst Community Projects Group said there is huge potential for improvement for use by visitors and local people.
Elsewhere in the county, enterprise group Menter Bro Aled has already taken over the toilets in Llansannan.
Llanrwst Community Projects Group, made up of councillors and business people, is bidding to run the toilets.
Treasurer Shirley Longley said the town and surrounding area had "suffered from the economic downturn".
"What we desperately need to do is increase the footfall [in the area] and increase tourism," she said.
"Gwydir Park is a focal point for the public and tourists, and if the toilets close it will affect the bowls club, the football and cricket clubs, a children's play area, the Marin Trail cycling route and a cafe.
"They are the only available toilets for that area."
Alwyn Williams, the chairman of Menter Bro Aled, said the toilets in Llansannan had been closed by Conwy council after water damage in bad weather.
Following a "huge effort" by volunteers the place was repaired, painted, and tiled before it reopened a year after it closed, in February this year, he added.
Mr Williams said any communities thinking of doing the same thing should be aware of the commitment involved, not just in taking the facility on, but maintaining it afterwards.
"The area attracts a lot of walkers and bikers, and workers such as the postman, bus and lorry drivers use it every day," he added.
Earlier this year, the head of environment and technical services from Conwy council wrote to town and community councils asking if they wanted to register an interest in operating public toilets or if they were aware of any other party with such an interest.
Coun Mike Priestley, the cabinet member for environment said: "Officers are collating all the responses we've received and we'll be taking a report to cabinet in the near future."