Conwy street lights on 24 hours a day causes concern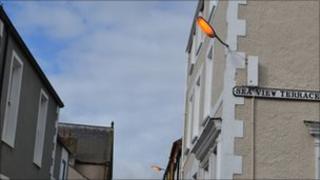 Street lamps left on for 24 hours a day after upgrading works are causing concern in the town of Conwy.
Up to 20 lights in both the town's Chapel Street and High Street seem to be affected.
ScottishPower said it was up to the council to work on some of its equipment following the upgrading work.
A council spokesperson said the council pays a flat-fee for its electricity so it will not mean bigger bills, and engineers are working to sort it out.
Conwy county councillor Joan Vaughan says it began when the power company repaired a fault, and she says it has been going on for too long.
"I think it's about six weeks," she said.
"But they are digging up, as we speak, to try and find the fault," she told BBC Radio Wales.
The council says it pays a flat fee for its electricity, so the lights are not running up any big bills.
It says the only way to solve the problem is to fit a new 'photocell' switch to each street lamp and the street lighting team are arranging for this work to be done as soon as possible.
A similar problem occurred in Llanfairfechan in 2008.
There about 20 lights along one stretch of road shone day and night for four months.
In a statement power company ScottishPower said: "(We) carried out a repair to an underground cable, whilst this was being done we upgraded part of the network to give a more secure supply."
The company said it then contacted the council to let them know the work was completed.
"The lights were left on a 24 hour burn rather than leave the area in darkness," it said.
"The council has to carry out work to the some of their equipment due to the upgrade."