Army Dragon's March in Bala targets pupils for careers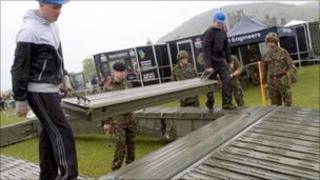 More than 1,000 school pupils are expected to attend a three-day army exhibition in Gwynedd about the trades available to those that sign up.
Dragon's March, taking place in Bala, is publicising the range of trades available in the services.
The exhibition is organised by Major Andy Rowlands, who comes from Bala.
Some local people have raised concerns at what they claim is a recruitment drive with no warnings about the risks of armed service.
Organisers say the exhibition is an informative event aimed at pupils in Years 9, 10, and 11, with no recruiting taking place.
Major Rowlands, 34, who went to Ysgol y Berwyn School, said: "I'm quite proud to come back here and bring the army to this part of Wales."
"It's not often seen in this area. It's important that children from this part of Wales are given the key to what is on offer."
The display, which runs until Thursday in Rhiwlas Fields, includes a Challenger 2 tank, an AS90 self-propelled artillery piece and a Warrior infantry tracked vehicle, with a mock battle held at 1330 BST each day.
Exhibitions at the event aim to showcase the work of medics, logistics staff, engineers, mechanics, infantry, the armoured corps, musicians, chefs, drivers and artillery personnel.
Welsh-speaker Major Rowlands, who graduated from Sandhurst in 2000, said invitations had been sent to every school in north Wales.
The location was chosen to be more central for schools as far away as Aberystwyth than the previous event held at Bodelwyddan Castle.
He said: "This is not a recruitment drive per se.
"We're here to demonstrate to young people what a career in the armed forces would be like.
"There's no pressure to join. It's just to show what's on offer."
However, BBC Radio Cymru's Taro'r Post programme heard that not everyone welcomed the visit.
Risk warnings
Reverend Dr Goronwy Prys Owen said displays such as the one in Bala did not show "the real world", because it had an over emphasis on the positive, and not enough information about the hundreds who die in conflict.
Former army recruitment officer Will Howarth said that the dangers were pointed out to would-be soldiers and the forces offered "all sorts of jobs, which can then be transferred when you leave".
"When they come into the office we sit them down and tell them that there is a chance they will be killed," he said.
The exhibition is being held during school hours and Gwen Ballard, whose son Dylan is in the forces, said she would have liked it to be held outside these times, so that more young people could attend.
Speaking about when her son wanted to join she added: "I didn't want him to go at all, because the last thing I want is the knock on the door.
"But as Dylan pointed out, it is his life, and he gets a career out of it which hopefully leads to a job when he leaves too."
Former navy chaplain the Reverend Marcus Robinson said he believed the army's recruitment process was robust, and at the end of the day the forces were there to defend the country.
"It is important that they come in with open eyes," he added.
Secondary school religious studies teacher Huw Dylan Jones argued the event was not educational.
"This is a recruitment drive, it is not educational because it does not show both sides," he added.
The Army said almost 300 young people had visited its careers offices in Wales over the past few weeks to express an interest in training at either the Army Foundation College (AFC) in Harrogate, North Yorkshire, or the Army Technical Foundation College (ATFC) in Winchester, Hampshire.
Next week, a Dragon's March event will held at Margam Park, Port Talbot, where it was held last year.