Alltwen hospital lift 'waste of money' claims critics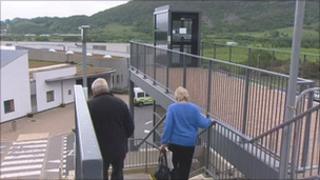 A Gwynedd hospital is to look for new ways for patients to reach its entrance because a £40,000 lift is not working.
The lift was built at Ysbyty Alltwen in Tremadog 18 months ago to link the car park and main entrance which are on different levels.
It has only worked briefly and called a "waste of money".
Betsi Cadwaladr University Health Board said it would create parking spaces nearer the entrance while it resolved legal matters with the lift company.
The lift was commissioned after the hospital opened in 2009.
In March a health board spokeswoman said it had been open for four full days and 20 half days, and cost the authority £41,000 to date.
Gwynedd councillor Selwyn Griffiths, chair of the local community health council, said: "It's been a problem from the start.
"It's an essential part of this hospital, with the parking so high up, for the elderly people to come down to the hospital.
"Yes, there are steps there, but those aren't very good steps. They are very steep to elderly people."
Mr Griffiths said he laid the blame for what had happened with the health board.
'Most disappointing'
"To me it's 100% their own fault for commissioning the work. It's been a waste of money."
The Reverend Dewi Morris, chaplain at Alltwen hospital and a member of its League of Friends, said the lack of a working lift had been very inconvenient and "most disappointing".
"The lift here, from day one, hasn't worked," he said. "The League of Friends has brought it to their attention but somehow nobody has been able to get the lift working from day one."
Neil Bradshaw, director of planning at Betsi Cadwaladr University Health Board, said that the problem stemmed from the lift's exposed position.
"At times the safety overrides within the lift, that make sure that people don't get trapped in the door, can be affected by very high winds. They stop the lift functioning."
Mr Bradshaw said 18 months had been spent trying to resolve these problems.
"Like a lot of users of the hospital we as a health board are extremely frustrated in terms of the length of time it's taken," he added.
"I need to stress that it has not actually cost the health board any money. This has very much been sitting with that company to try and resolve the problem."
Mr Bradshaw said they would look at improving access by creating extra car parking at a lower level near the entrance, and the possibility of Gwynedd council taking over the management of the car park.
"It's not ideal," he said. "We accept that. We will resolve this issue but it's going to take some time so we feel we need to get some temporary solutions in in the short term."