Llyn Landscape Partnership announces £1.7m for heritage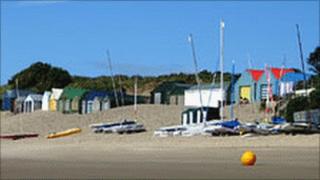 The Llyn Peninsula area of Gwynedd is to receive £1.7m to preserve its cultural history and coastal scenery.
The scheme will offer training in traditional skills, encourage Welsh and protect the landscape.
Project chair Meiner Jones said it would preserve the "rich language, literature and culture that has been handed down the generations".
The money is from National Trust and Countryside Council for Wales, with £700,000 from Heritage Lottery Fund.
Ms Jones said the four-year scheme, known as the Llyn Landscape Partnership, was less about tourism and more about encouraging local involvement with the area's heritage.
"Community is very important to the project. They need to be involved for the project to be a success," she said.
Planned projects in the first year of the scheme include:
The renovation of traditional cottages in Rhiw
A maritime history project
New walks linked to the coastal path
Volunteering schemes
Local festivals.
In addition, it will offer accredited training in traditional crafts and skills in abid to create sustainable employment.
"We are trying to attract young people who are unemployed, who can take advantage of the skills they can learn," said Ms Jones.
"It's a chicken and egg situation: people aren't using traditional methods because they don't have the knowledge.
"Hopefully when they do have the skills there'll be more demand. There are skills that are dying out but that we are trying to preserve."