Anglesey soldier Oliver Robinson's skull rebuilt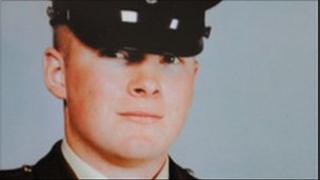 A soldier who suffered a head injury after being hit by a car near his base in Germany could be home within months after having his skull rebuilt.
Queen's Dragoon Guardsman Oliver Robinson, 26, from Anglesey, has been in hospital or clinics since he was hurt in May 2010.
His grandmother Pat Clarke, from Holyhead, said his skull had been rebuilt with titanium plates.
Mr Robinson and his family are now learning sign language to communicate.
Ms Clarke said: "He is doing sign language and we're all trying to learn it.
"It's not easy, but it's like speech - once it's used, you remember it more. It will come - it has to."
Her grandson underwent surgery at the Queen Elizabeth Hospital in Birmingham, and she said it was unbelievable and wonderful that surgeons had been able to reconstruct his skull.
She paid tribute to the hospitals and clinics that have treated him.
"We didn't think it would come to this," she said.
"We didn't think he would survive, but the hospitals have done a wonderful job.
"We're absolutely over the moon. When he's home we can get some normality."
She said her grandson would need long-term one-to-one care on his return home.
The Queen Elizabeth Hospital has been asked to comment.