Bad weather rescues but group in double Snowdon climb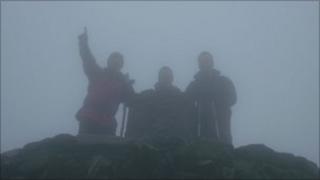 Driving wind and rain hampered rescues in Snowdonia on Saturday, while one group climbed Snowdon twice.
Snowdon Mountain Railway was closed to the public due to the bad weather, but a train was used to transport four casualties, Llanberis Mountain Rescue Team members and staff from the summit.
Ogwen Valley mountain rescuers stretchered a woman from Y Garn, and led two men to safety on Tryfan.
However, three men from Conwy achieved a double ascent of Snowdon for charity.
Ian Henderson, from the Llanberis Mountain Rescue Team, said the bad weather had been forecast, and the first call came in at about 1630 BST, saying a man with an injured leg had been taken into the Hafod Eryri summit building on Snowdon.
"Then we got another call that an 85-year-old man suffering from hypothermia had also been taken in there," he said.
"Then a middle-aged woman with mild hypothermia was also taken there and they, along with rescue team members and staff, were collected by the special train," he added.
On the way down the train then picked up another woman at a point known as Clogwyn, this time with a groin injury.
"It would have been a nightmare without the railway's help," Mr Henderson added.
Ogwen Valley Mountain Rescue team stretchered a 47-year-old woman hill-walker off Y Garn.
She was found by two other walkers after banging her head and suffering a large gash to her knee.
In all, 22 team members were involved, and six members of the RAF Valley mountain rescue team.
'Extraordinary circumstances'
A spokesman said the weather had been deteriorating rapidly with low cloud, heavy rain and 60mph gusts of wind.
An RAF rescue helicopter from Valley was unable to reach the woman because of the weather.
She was eventually carried to a waiting ambulance.
Snowdon Mountain Railway said the train was made available because of the "extraordinary circumstances".
The railway's commercial manager Vince Hughes said: "We were able to send one of the trains to help with bringing injured parties and the rescue team members off the summit.
"Although normal passenger trains are unable to operate during such extreme weather, with heavy rain and high wind speeds of up to 60mph, it was extraordinary circumstances and therefore a train was made available.
"Snowdon Mountain Railway has always worked closely with the mountain rescue team and will always endeavour to assist whenever practically possible."
'Good call'
Later, the team led two men, from Cornwall, to safety after they got lost on Tryfan.
The well-equipped climbers had been unable to find a footpath while walking on the north ridge, and then used a mobile phone to raise the alarm.
Barry Starr, with twin brothers Leigh and Shane Myatt, from Old Colwyn, managed to battle against the elements in their bid to climb Snowdon twice in a day, to raise money for Cancer Research UK.
Experienced climber Mr Starr said the weather had been "horrendous".
The group took 10 hours to complete their feat using different tracks up and down the mountain each time.
Mr Henderson said that to climb Snowdon twice in one day was "pretty unusual".
"It was a good call for charity as they did quite a bit of mileage," he added.