Faster north to south Wales train service launched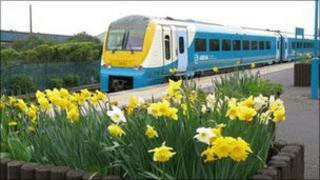 A second north to south Wales train service has been launched between Holyhead and Cardiff.
The Express Service has a journey time of four hours and 17 minutes, which is nine minutes faster than the existing early morning Y Gerallt Gymro service.
The Welsh Government is investing in the service at a cost of £620,000, until a new contract in December 2011.
The new service, which has a different route to the earlier train, is also run by Arriva Trains Wales.
The new service will leave Holyhead at 0751 BST and arrive in Cardiff at 1208.
The return journey will leave Cardiff at 1818 BST and arrive back in Holyhead at 2234.
The morning service goes from Holyhead and stops at Bangor, Llandudno Junction, Colwyn Bay, Rhyl, Chester, Wrexham, Ruabon, Chirk, Gobowen, Shrewsbury, Newport and Cardiff.
In the evening it runs from Cardiff to Newport, Abergavenny, Hereford, Shrewsbury, Gobowen, Ruabon, Wrexham, Chester, Rhyl, Colwyn Bay, Llandudno Junction, Bangor and Holyhead.