Caernarfon couple's plants win Chelsea Flower Show gold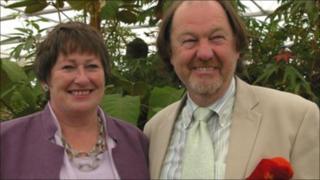 A couple, who grew plants from seeds they collected from remote parts of the world, have scooped two top awards at the Chelsea Flower Show.
Sue and Bleddyn Wynn Jones, from Caernarfon, Gwynedd have won a gold medal and the President's Award for the best exhibit in the Great Pavilion.
They needed special consent from places like Vietnam, Taiwan, Korea and Japan to take the seeds out of the countries.
It is Mr and Mrs Wynn Jones's debut at the prestigious flower show in London
Their display of ornamental trees, shrubs and ground covering plants from forest floors appealed to the judges. The Queen also viewed the display on Monday.
Mr and Mrs Wynn Jones diversified from farming to plants 21 years ago and set up Crug Farm Plants, a nursery two miles from Caernarfon.
They travel to parts of Asia and central America, scaling mountains and volcanoes, exploring hidden canyons to seek out rare specimens.
Among the plants on display at Chelsea show is the alpina - a hardy species collected on the upper reaches of Phan Si Pan, the highest mountain in the north of Vietnam.
Mrs Wynn Jones said: "We've won a gold medal at Chelsea and it's our first time here. We're absolutely thrilled.
"It was in the educational section and the judges said our plants were excellent, the overall impression (of the display) was excellent and the scale of endeavour was excellent.
"The display is unique in the fact that we've been out collecting the seeds and then grown the plants."
Mrs Wynn Jones said gardening experts at the show "loved" the display because nothing like it had been seen at Chelsea before.
She said the Queen and other members of the Royal family saw the display when they visited the flower show on Monday.
"She (the Queen) said she found it very interesting when it was explained to her by the president of the Royal Horticultural Society," Mrs Wynn Jones said.
"Princess Alexandra visited too and was impressed."
She added: "We were farmers and diversified into the plant world 21 years ago. We've always loved travelling and it's become a way of life to pick up seeds and try and cultivate them back in Wales."
The couple are said to work closely with official Government agencies in countries such as Taiwan, Vietnam and Guatemala, and provide research material for universities all over Europe.
Speaking before Chelsea, Mrs Wynn Jones said: "We want to show people rare and unusual plants that they will probably have never seen before but can grow in their own gardens with ease.
"We'll have plants on display from all corners of the world that we now grow at our nursery. Even though we've been collecting plants for the last 20 years, this is the first time we've exhibited at Chelsea so we are really excited."
Another showpiece garden at Chelsea is a Welsh artisan garden from designer Anthea Guthrie, who worked with special needs pupils on a project to recreate a post-war patch.
It depicts a south Wales valleys garden in 1947, and was inspired by a visit to a cottage at St Fagans: National History Museum.
Children during post war austerity were encouraged to play in gardens and make their own toys.
Gardening techniques from the period are featured, such as black cotton round the pea sticks to deter pigeons. A junk iron fence and coal slack path complete what is called an "unashamedly nostalgic picture".