RNLI herds stranded dolphin off Fairbourne out to sea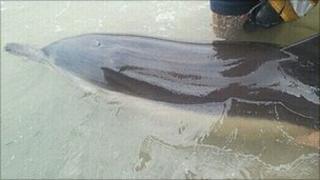 A female dolphin stranded in shallow water off the coast of Gwynedd has been herded back out to sea after a two-hour operation, says Holyhead Coastguard.
The animal was found in 1ft of water (0.3m) on sand banks at Penrhyn Point, Fairbourne, at Wednesday lunchtime.
The harbourmaster of nearby Barmouth, Glyn Jones, said he herded her into deep water, but she refused to take the hint and returned.
Barmouth inshore lifeboat and the RSPCA managed to guide her back out to sea.
It is believed the dolphin was up to 6ft (1.8m) in length.