Methadone baby mother denies shifting blame to partner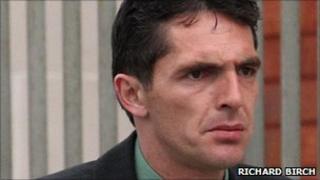 The mother of a baby who was given doses of methadone has denied trying to lay the blame on her former partner.
Grant Yuill, 38, of Porthmadog, Gwynedd, is alleged to have rubbed the drug on the girl's gums.
But Nia Wyn Jones, 31, of Caernarfon, who is in jail for the ill-treatment of her daughter, told the town's crown court that both of them were involved.
Mr Yuill denies eight charges including child cruelty and supplying drugs. The trial continues.
Jones, who is serving a three-year jail term, was accused by a defence barrister of trying to blame someone else ever since her arrest in hospital.
When she was asked if she was trying to deny any responsibility for the way her child was treated she replied: "I think it's only fair for both of us to take the blame as we were both involved in it".
The court also heard from a young boy that he believed both Mr Yuill and Jones gave the baby methadone.
Giving evidence via a video link, the boy said he thought he saw Mr Yuill give methadone to the infant "once or twice."
Answering questions from defence barrister Jonathan Austin, he said he could not remember how it was done.
Earlier, however, he claimed: "When she was about five or six months I saw methadone put in her bottle. At the time I didn't know what it was."
The child said he also once saw Yuill deliver a teddy bear, with a bottle of methadone in the zipped-up mouth, to Jones.
He added that Yuill used to hit Jones.
'Addicted'
The jury had previously heard that Jones became addicted to heroin after Mr Yuill pretended it was "hash oil".
In 2009 she discovered she was four months pregnant and Mr Yuill is alleged to have told her she could do nothing but continue taking methadone.
The child was born in June 2009 and subsequently re-admitted to hospital.
It was on the third occasion that nursing staff became suspicious and police were alerted.
The court had also heard that Mr Yuill told Jones it was the only way to conceal the fact she was taking methadone.
The prosecution said the baby was born addicted to methadone and was lucky to have survived.
Mr Yuill denies two counts of supplying methadone to the child and four offences of supplying heroin and methadone to the mother.
He also pleads not guilty to child cruelty and putting the mother in fear of violence.