Restored lifeboat returns to her former Barmouth home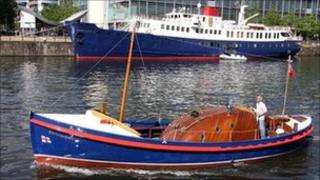 A former lifeboat is returning to Gwynedd on Sunday after a six-year restoration project.
The Chieftain was based in Barmouth between 1949 and 1982 before being decommissioned and sold.
She had fallen into disrepair by the time Tony Gatt brought her, but he took the project on because of his interest in lifeboats.
The boat is something of a tourist attraction at her Bristol home and is included in a harbour tour.
"I suppose I've always been interested in lifeboats and used to visit Barry (Vale of Glamorgan) lifeboat station with my father," said Mr Gatt, explaining why he took the project on.
The mammoth task has cost "lots of money, I don't want to say but it is thousands" and has included everything from replacing all the woodwork to the inevitable engine work.
Mr Gatt said no boat was ever "completely finished" and there were some original items from the Chieftain that he was keen to track down.
"I would like to find the original horn, and some of the navigational items are missing.
"They might turn up on Ebay one day," he added.
Mr Gatt said he was uncertain how many people to expect when he arrived in Barmouth on Sunday, but he said former RNLI crew members who worked on the lifeboat would be there.
After her trip to Wales the Chieftain returns to her Bristol home.
"She's a bit of a tourist attraction there," said Mr Gatt.
"There is a tourist tour of the harbour and she is included in the narrative," he added.
Next year there is also another trip planned - this time to a classic boat and ship show in Brest in France.