Grant Yuill denies heroin trick on baby's mother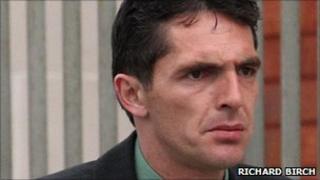 A man who denies rubbing methadone on his newborn baby's gums has also rejected a claim that he tricked her mother into smoking heroin.
A jury was told by Nia Jones, 31, she became addicted to heroin after Grant Yuill, 38, pretended it was "hash oil".
Mr Yuill, of Porthmadog, Gwynedd, denies supplying methadone to the baby and heroin and methadone to the mother, child cruelty and other offences.
The trial continues at Caernarfon Crown Court.
Karl Scholz, prosecuting, told Mr Yuill: "The truth is that you initiated her.
"That element which would make the offence of supplying heroin that much more serious is present here.
"You initiated her into smoking heroin and you tricked her?"
Mr Yuill replied: "No, I didn't."