Liverpool ferry car's GPS sparks Anglesey lifeboat hunt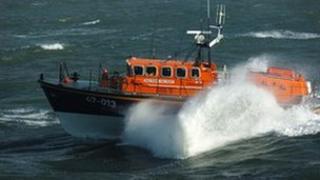 An electronic tracking device fitted on a car on board a P&O ferry is thought to have triggered a sea search off the Anglesey coast.
The incident on Sunday night was co-ordinated by Holyhead coastguard who said it was the first time they have dealt with an incident of this type.
They said a search was launched in case someone was in trouble as GPS tracking systems are also used on mobile phones.
The RNLI said it was a false alarm with good intention.
Barry Priddis, the watch manager at Holyhead Coastguard, said the call was received from the police just before 2100 BST on Sunday.
The location of the signal, which had been passed to the North Wales Police from Glasgow Police, was about four miles off Point Lynas, Amlwch on Anglesey.
"Because it could have been an individual using his phone to try and get help we tasked the lifeboat to search whilst we made further enquiries," he said.
"Nothing untoward was found in the area and we discovered that coincidentally a ferry had passed the area at about the same time the signal had been picked up.
"Circumstantial evidence pointed to the fact that it probably came from a device fitted to a vehicle which may have been activated by the ship's movement," he added.
Because it is the first time Holyhead coastguard has dealt with an incident of this nature he said it was a "learning experience" which could happen again as more vehicles are fitted with the devices.
The ferry in question was the P&O European Endeavour, which was travelling between Dublin and Liverpool with 71 vehicles on board.
Rod Pace, the lifeboat operations manager at Moelfre lifeboat said it was important that the search was carried out.
"Any calls like that have to be investigated," he said.
He said his understanding of the tracking systems was that they are fitted to more expensive cars, but also to large wagons.
"The lads were out until just before midnight and nothing was found in the area. It was a false alarm with good intent," he added.
The ferry company has been asked for comment.