Grant Yuill cleared of rubbing methadone on baby's gums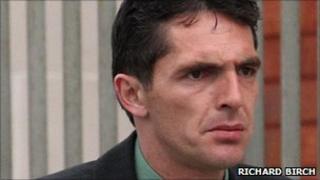 A man has been cleared of rubbing methadone on his baby daughter's gums.
But Grant Yuill, 38, from Porthmadog, Gwynedd was found guilty of four counts of supplying Class A drugs, and one of child cruelty by a jury at Caernarfon Crown Court.
He was also convicted of putting a person in fear of violence.
The jury will reconvene on Wednesday to consider the final charge of putting methadone in the baby's bottle.
The court had been told that Mr Yuill told his partner Nia Jones, 31, it was the only way to hide the fact she was taking methadone.
He had denied all eight charges.
He was cleared of supplying methadone to the baby but found guilty of four charges of supplying heroin and methadone to the mother, as well as child cruelty and putting the mother in fear of violence.
The jury heard the baby was born addicted and is lucky to have survived.
Jones, of Caernarfon, who is in jail for the ill-treatment of her daughter, told the court she used to take cannabis and dabbled with ecstasy.
She told the jury she became addicted to heroin after Mr Yuill pretended it was "hash oil", but Mr Yuill rejected a claim that he tricked her into smoking heroin.
'Burning up'
In 2009 she discovered she was four months pregnant and Mr Yuill is alleged to have told her she could do nothing but continue taking methadone, a heroin substitute.
The court heard that the child was born in June 2009, and that after giving birth Jones told Mr Yuill that she was worried because the baby was "burning up."
Jones told the court Mr Yuill dabbed his finger twice into a bottle of methadone and rubbed it on the baby's gum.
When the baby went home, this method continued and methadone was mixed in her milk.
The trial heard the couple had also tried to squirt methadone in the mouth using a syringe. The dose increased.
The child was subsequently re-admitted to hospital, and it was on the third occasion that nursing staff became suspicious and police were alerted.