Accident verdict on Ryan Owen after Llandudno car death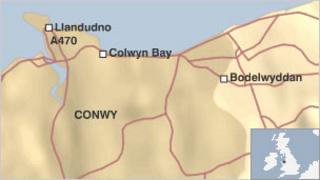 Other drivers should learn lessons from the death of a teenager in a car crash, says a coroner.
An inquest at Llandudno, Conwy, heard how Ryan Owen, 17, was driving a Peugeot 106 late at night with three other cars driven by teenagers.
The Peugeot had a defective brake, which may have affected its stability, and it lost control on the A470 at about 40mph (64kmph) in Llandudno.
Coroner John Gittins recorded a verdict of accidental death.
The inquest heard that the four cars were travelling from Llandudno to a Tesco store in nearby Llandudno Junction.
Thomas Lyness, 18, had denied to police that he was racing against Ryan and no action was taken against the young drivers.
Mr Lyness told police Ryan had been doing about 40mph, adding: "I looked in my left mirror and saw his car starting to twitch and wobble."
The car hit a road sign and a wall, and Ryan died in hospital from head injuries.
Victoria Anderton, a North Wales Police collision investigator, said an imbalance in the braking system would affect the stability of a car under heavy braking.
There were also four nails in one rear tyre, the inquest heard.
Mr Gittins said a deflated tyre could cause an over-steer. A combination of factors - possibly including the driver's inexperience - appeared to have caused the tragedy.
He said the car was probably driven slightly in excess of the speed limit but he did not think Ryan had been driving dangerously.
It was likely the teenager had over-corrected a slight movement and the Peugeot spun out of control, he said.
The coroner said it was not his role to preach, adding: "We all perhaps need to learn lessons from Ryan's death."