Gwynedd council plans Dolgellau school closures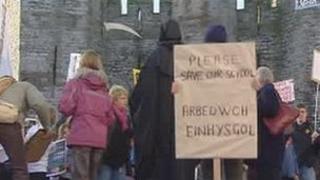 Reorganisation plans for primary education in the Dolgellau area of Gwynedd have been published, showing some school closures.
It is the latest stage of controversial re-structuring plans across the county.
Dolgellau Primary and Ysgol Uwchradd y Gader would be replaced by a multi-site "lifelong school" for 3-16-year-olds.
An area school would be created at various sites including Ysgol Dinas Mawddwy, and either Ysgol Brithdir or Ysgol Ieuan Gwynedd, Rhydymain.
Ysgol Llanfechreth would close under this plan.
Discussions for the western part of the catchment area have been deferred.
In May Gwynedd councillors voted to close one of the county's smallest schools: Ysgol y Parc, near Bala, which has 19 pupils.
School closures
The authority said it was too small and should close as part of the controversial wider re-organisation.
However, local people argued that without it their Welsh-speaking community was threatened.
In December last year councillors voted to close five primary schools in the Tywyn area as part of the reorganisation process.
Ysgol Abergynolwyn has already closed with Ysgol Bryncrug, Ysgol Llanegryn and Ysgol Llwyngwril closing during the school year 2013-2014.
Plans to close Ysgol Aberdyfi by 31 August 2013 were also backed subject to improvements at Ysgol Penbryn.
Llwyngwril school supporters have sought legal advice on the council's closure process.
They have vowed to fight to keep the 29-pupil primary school open as they say children's education will suffer, and they do not want them bussed to a community school still to be built.
The children and young people's scrutiny committee meets in Siambr Dafydd Orwig at the council offices in Caernarfon at 0930 BST on Thursday.