India-Wales Writers Chain: Poetry exchange at Ty Newydd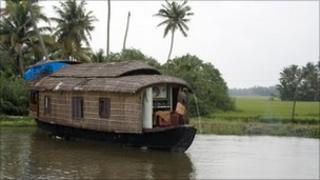 Eight poets from India and Wales have come together to translate their work into each other's language.
The India-Wales Writers Chain involves four poets working in a range of Indian languages and four working in Welsh.
They are spending six days at the Tŷ Newydd National Writers' Centre in Gwynedd as part of a cultural exchange.
The writers will also be holding evening readings at Bangor and Aberystwyth next week.
The Welsh poets are Menna Elfyn, Eurig Salisbury, Hywel Griffiths and Karen Owen, and the Indians are Malaylee K Satchidanandan, young Tamil poet Meena Kandasamy, Mumbai-based Bengali poet Sampurna Chattarji, and Robin Ngangom, from north east India.
As well as translating work into the Indian languages, there is a plan for the Welsh writers to introduce a "colourful seam of contemporary Indian poetry into the Welsh language for the first time".
Sampurna Chattarji said the exchange was important as "another link in that powerful chain forged out of friendship, poetry, and the mysterious affinity between languages".
"I hope to achieve a deeper understanding of Welsh poetic traditions and have the chance to share my own work, context and concerns with my fellow Welsh poets," she said.
'International collaboration'
The India-Wales Writers Chain 2010-2012 has been developed by the British Council in partnership with Wales Arts International.
It was launched last year at the Hay Festival in Kerala, India.
Louise Wright, senior arts advisor with the British Council Wales, said the events provided a "further opportunity for participants to explore and deepen understanding of each others' cultural experiences across language".
There was also an opportunity to access new audiences and markets, while "promoting international collaboration and creative exchange".
The event, supported by the Welsh Government, is an opportunity to foster relationships between the Welsh and Indian literary scene and opens the market for Welsh writers, according to Sioned Puw Rowlands, director of Wales Literature Exchange.
"We have already made progress with the forthcoming release this autumn of three anthologies of Welsh short fiction in Tamil, Bengali and Malayalam," she said.
An evening reading will be held at the Blue Sky Cafe, Bangor, on Sunday, where the poets will perform their work in progress and talk about the work of translation.
On Wednesday the writers will be at Ultricomida, Aberystwyth, for a poetry dinner.