Llandudno hotel owners track down conwoman on Facebook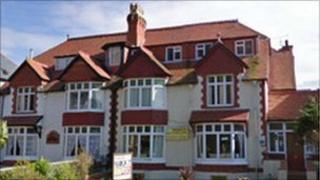 A woman who checked into a Conwy guest house with a false ID and left without paying her £400 bill was tracked down by the owners using Facebook.
Police then arrested call centre worker Helen Ogden, 27, from Manchester, who posed as a heart surgeon while staying at the Westdale guest house, Llandudno.
Llandudno magistrates ordered her to pay £815 compensation to owners of the Westdale and two other nearby hotels.
She admitted three offences of making off without paying bills.
Lesley Wilson, who runs the hotel with daughter, Emma, said she was taken in by Ms Ogden, believing she had come to know her during the 10 night stay.
"I wanted to believe her," she said.
'Believe'
"She said she was going for money but she never came back."
The full story of the deception emerged during the court hearing in which Ogden received a six months conditional discharge.
She had booked in at the Westdale as "Rachel Jones", giving an address of holiday cottages at Shrewsbury.
The owners of the Westdale - where she also ran up a bar bill for 54 pints of lager - used the Google internet search engine to start their research.
They found and then called a similar address and gave her description which was recognised by the cottages' owner.
Then, armed with her real identity, her Facebook profile was uncovered by Mrs Wilson's daughter before the police were alerted.
"I was taken in," said Mrs Wilson, after the hearing.
"I can't understand someone so nice, quiet and polite... you wouldn't believe this in a million years."