Talybont caravan fire funeral for Rob and Andy Taylor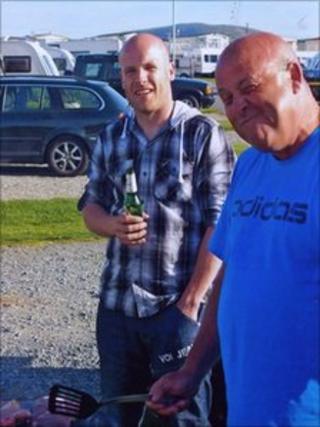 A woman who lost her husband and son in a caravan fire in Gwynedd has paid tribute to two "very special guys" on the day of their funerals.
Rob and Andy Taylor, aged 58 and 26 and from Flint, died in the fire at the Sunny Sands caravan park, near Barmouth, earlier this month.
Robert Taylor's wife Denise, 50, suffered "superficial burns" while helping to rescue their granddaughter.
She said both men "enriched the world" and put others before themselves.
Mrs Taylor, a paramedic, released a statement through the Welsh Ambulance Service.
It read: "Denise and family are humbled by the friends and family who have given us total support since the tragic loss of Rob and Andy.
"They were two very special men who devoted their lives to their children and brought a smile to the faces of everyone they met.
"They always put others before themselves and enriched the world in a way many people would find hard to match, they were two very special guys whose memory will be with people for a long time to come."
The fire which started in the caravan's awning at 0145 BST on 11 June is not being treated as suspicious.